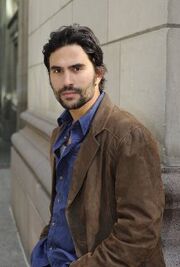 Born April 19, 1982 in Buenos Aires, Argentina, Ignacio Serricchio is an Argentine American actor. He is known for his role as Diego Alcazar on "General Hospital' and as Alejandro "Alex" Chavez on "The Young and the Restless." On "Ghost Whisperer," he had a recurring role as Melinda's half-brother, Gabriel Lawrence.
Ad blocker interference detected!
Wikia is a free-to-use site that makes money from advertising. We have a modified experience for viewers using ad blockers

Wikia is not accessible if you've made further modifications. Remove the custom ad blocker rule(s) and the page will load as expected.